Spin System
Variable speed belt spin system reduces operational noise and improves working lifetime and is ideal to handle racing wheels without any additional clamping accessory.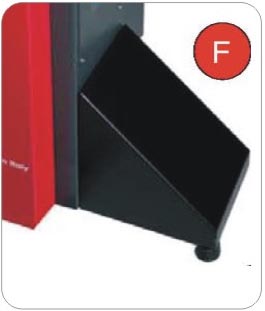 Stabilization Foot (Optional)
The stabilization foot allows the machine to operate on wheels having max weight of 50 Kg (110lbs) that will be 75 kg (165lbs) when using the floor installation kit.
Shaft Locking Device (Optional)
Available on demand the wheel-holder shaft locking device, which allows an easy and precise application of the balancing weight.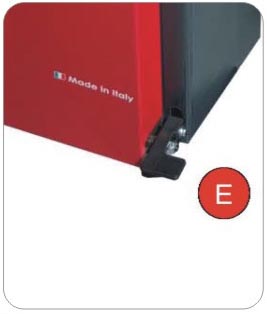 Quick Optimization Program
"Quick Optimization" program caculates the best coupling configuration between rim and tyre in order to minimize the overall wheel inbalance, thus reducing vehicle running noise and perceived vibration levels.
FEATURES
Self-calibration and self-diagnosis.
Auto measure distance data.
Available conversion between inch and millimeter, gram and ounce
Optional motorbike clamps and center less hole clamps.
Standard wheel cover with automatic starting.
SPECIFICATION
Max. wheel weight: 70kg
Motor Power: 180W~300W
Power Supply: 220V
Balancing Accuracy: ±1g
Balancing Speed: 220rmp
Rim Diameter: 10''~24''(265~615mm)
Rim Width: 1.5''~20''(40~510mm)
Measuring Time: 8s
Working Noise: <70db
Net Weight: 80kg