Spin System
Variable speed belt spin system reduces operational noise and improves working lifetime and is ideal to handle racing wheels without any additional clamping accessory.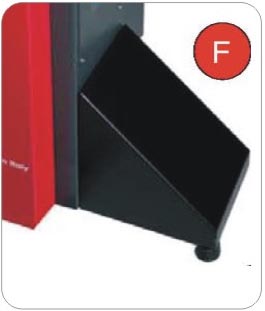 Stabilization Foot (Optional)
The stabilization foot allows the machine to operate on wheels having max weight of 50 Kg (110lbs) that will be 75 kg (165lbs) when using the floor installation kit.
Shaft Locking Device (Optional)
Available on demand the wheel-holder shaft locking device, which allows an easy and precise application of the balancing weight.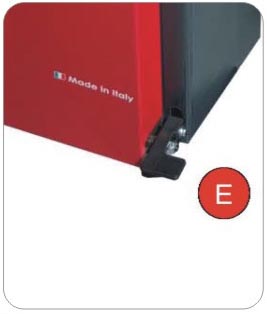 Quick Optimization Program
"Quick Optimization" program caculates the best coupling configuration between rim and tyre in order to minimize the overall wheel inbalance, thus reducing vehicle running noise and perceived vibration levels.
FEATURES
Automatic measurement for wheel distance and diameter.
Advanced 3D four-point calculation mode.
Automatic braking after spinning.
Standard wheel cover with automatic starting or stop
Static, dynamic and M/C balancing modes.
Rapid optimization. (OPT)
Automatic application of adhesive weights on unbalanced positions.
Immediate STOP button.
Split function to hide the weight behind the spokes of rims.
Self-diagnosis and self-calibration
Exceptional stability in reading the unbalance between planes.
Available conversion between inch and millimeter, gram and ounce.
No anchor-down installation is needed.
Foot Brake for application.
SPECIFICATION
Balancing Speed: 150 rmp
Rim Diameter: 10''~32''(265~812mm)
Rim Width: 1.5''~20''(40~510mm)
Wheel Diameter: <39''(1000mm)
Measuring Time: 7s
Working Noise: <70db
Packing Dimension(mm): 970Lx760Wx1120H
Net Weight: 150kg